I transferred
Old Smoky
to secondary during the week. A new name might be required though. No Smoky might be appropriate because I can't detect any smokiness in it, and this is disappointing because I have just come round to the way of smoke. On the plus side it is the best beer I have ever tasted out of the primary
fermenter
with a balanced roast character and satisfying fullness that can be put down to the large amounts of calcium chloride and the high mash temperature. Time will tell on the smoke front, but I am not hopeful.
Today I had some spare time so I racked off my
latest
ale for bottling. Usually I put 10 litres in a barrel and bottle the rest, however this time I plan to bottle all of it with the intention of bringing it to Cork for Ireland's first home brew expo. This will hopefully prove to be a great opportunity to put home brewing into the consciousness of the average Irish punter and perhaps make them realise that great beer can be brewed at home, in many cases this beer can prove far more flavourful and satisfying than the macro produced beer on offer in most Irish pubs.
As a just reward for my hard work today I settled down with a generous bottle of
Stone Smoked Porter
and a plate of various meats, olives and cheese provided by my thoughtful wife. The porter is wo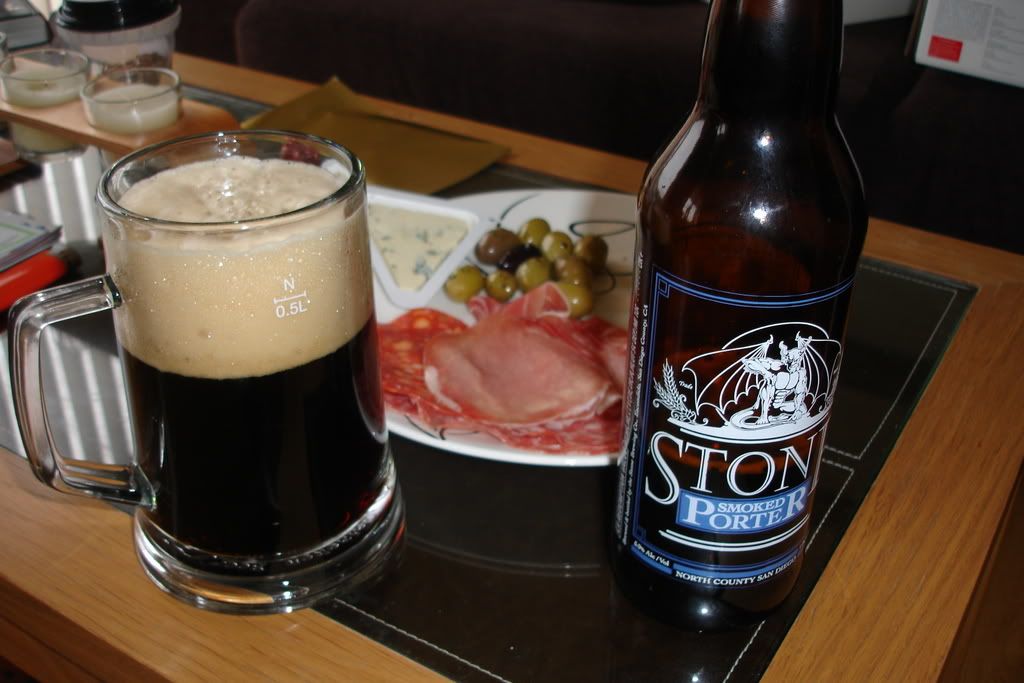 nderful; full in the rich American dark beer sense with satisfying malt complexity, balancing bitterness and perfect carbonation rendering the beer superbly drinkable. The colour is alluring, as is the rich foam that settles upon it and it has the same spiciness that the
Stone Imperial Russian Stout
develops upon a little warming. All in all a wonderful beer, but not a hint of smoke in it. Perhaps I'm searching for the wrong type of smokiness, like the kind found in
Bamberg
style smoked ale, if so, it's just not present. No matter, it is a thoroughly satisfying pint and makes me feel a little better about the lack of smoke in my own porter.