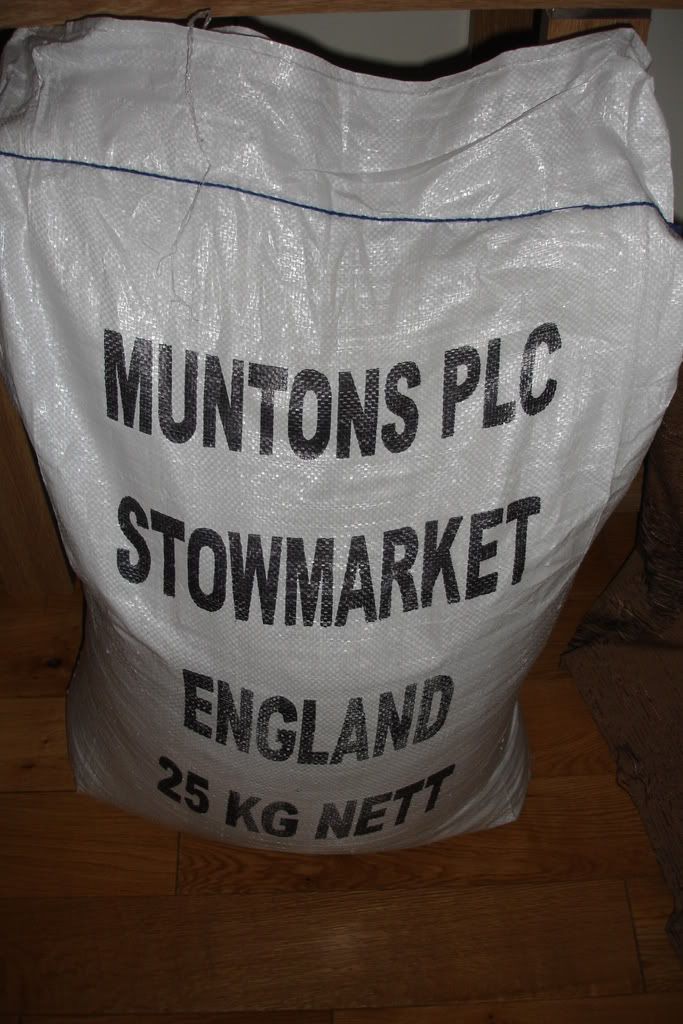 The potential is breathtaking. What you're looking at is 25 kg of some of the world's finest two row pale malt. Maris Otter, to those in the know. It is without form, ready for crafting into any number of fine beers. Crisp pale ale? Without doubt. Rich barley wine? Certainly. Smoked porter? Perhaps. Whatever takes my fancy. But my excitement is met by trepidation in equal measure. Sadly my brewing endeavours have not gone to plan over the last 6 months or so. I have ditched a hundred litres of beer because of a stubbornly persistent off flavour that I cannot shift.
Remember
this ale
? It was my return to the mash tun after a long break, and to be honest I was certain that it would be taint free thanks to a tightening of my brewing technique. Sadly it was not, so this is my next offensive against the nasty flavour; a new fully pimped home made wort chiller. It has far greater cooling capacity than my previous one and should cool things down far quicker and prevent me, through sheer impatience, from aerating the wort at too high a temperature. You see, my existing wort chiller takes an age to get wort down to room te
mperature. It'll drop the first fifty degrees centigrade very rapidly indeed which takes care of all my my cold break requirements, but I simply cannot wait the length of time required to get the wort down to 20 C. As a result of this, and other things peculiar to my brewing set up, the wort tends to get aerated at around 25 C and sometimes a little higher. My latest vexed theory is that this is oxidising my break filled wort and precipitating the pesky off flavour. This coming weekend should see the test of this theory, but in the meantime can any brewers out there let me know if they are impatient like me, or having greater brewing maturity, ensure that their wort is plenty cool before aeration?