I chanced upon some Guinness Mid Strength the other evening. I had heard it was about the city but wasn't terribly bothered in hunting it down because I imagined it wouldn't be worth the effort. It turns out I was right; it really isn't worth the effort. Even the effort of raising the pint to your face is wasted on this beer. It looks just like full strength Guinness and for the most part smells just like it too but everything goes wrong when it enters your mouth. It has no length whatsoever and is miserably watery.
At the same bar I was very interested to see a tap for Carlsberg Mid Strength. I didn't anticipate it at all but of course had to try some despite rarely drinking its full strength namesake. Once again things didn't quite work out, but it wasn't so bad because I am familiar with non alcoholic lagers such as Beck's Unleaded, and in a blind tasting I would say that this Carlsberg was in actual fact alcohol free rather than the 2.7% stated on the tap. It has the classic alcohol free taste that is shared also with Erdinger's isotonic excuse for a sports drink. Laughably the blurb on the beer mats scattered around the pub suggest that the mid strength tastes exactly the same as the full 4.2% Carlsberg. Absolutely ridiculous, but if anyone knows the power of advertising, it's the peddlers of mass produced bland lager. I think I'd prefer go alcohol free and drive home than sink a couple of pints of mid strength lager and run the lottery of a roadside breath test.
The experience was interesting to me for a number of reasons. Firstly it highlighted just what ethanol brings to two different and distinct beer styles and just how difficult it is to make a tasty low strength b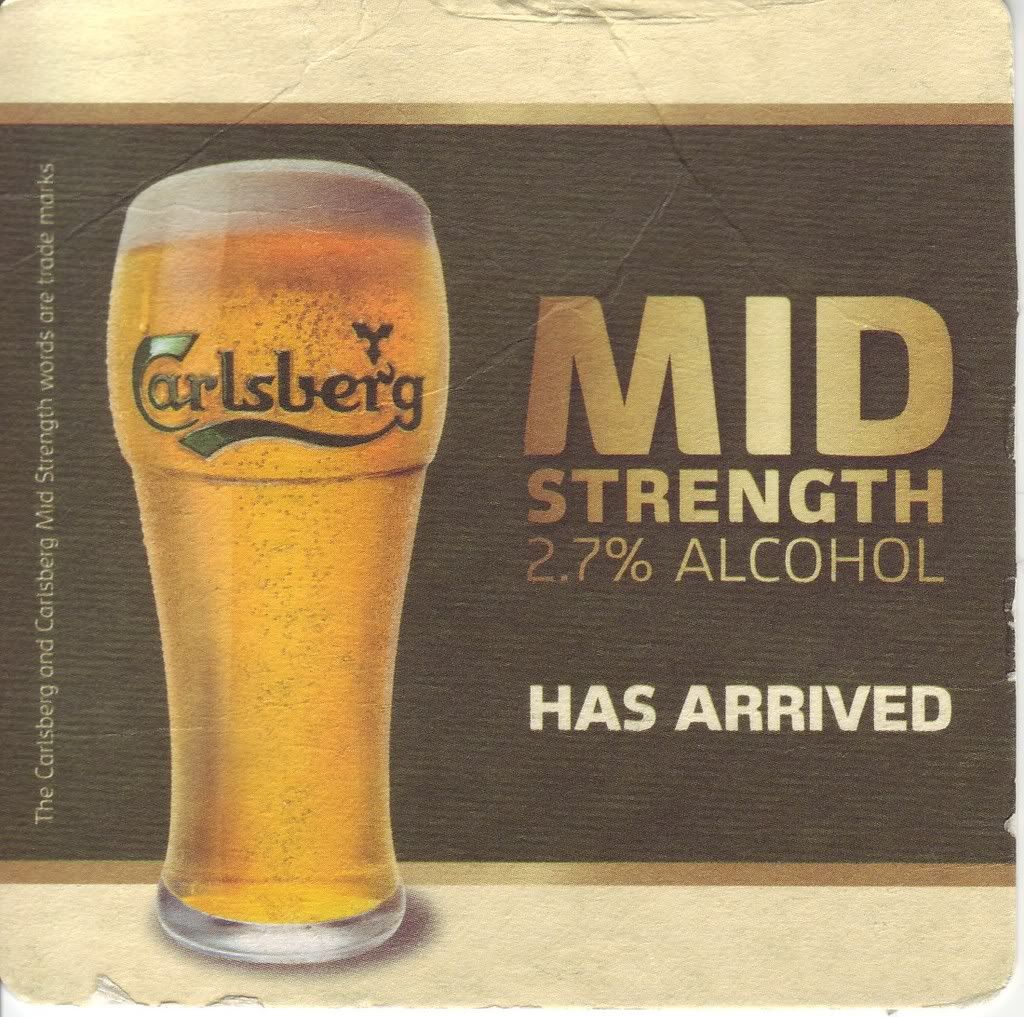 eer when you are unwilling to up the malt or hops in order to add some character to the beer. Britain has any number of very tasty low alcohol ales, but they differ to this attempt by Guinness because session ales in Britain are designed to be tasty and low strength, while Guinness appeared to have merely removed the alcohol but left everything else much the same. Secondly it pissed me off that the mid strength was almost the very same price as full strength beer despite the reduction in excise that Guinness had to pay on the production of these beers. This is nothing new of course - a bottle of entirely alcohol free beer is the same price as normal beer in Irish pubs, but clearly Guinness have carried out expensive and extensive market research to establish a demand for this type of beer and perhaps might have considered making it a little cheaper to attract those who might be happy to drink this type of beer and drive home afterwards. Finally, despite the lack of satisfaction I derived from these beers, I am very happy to see them on the market. As I said, it is likely much market research pointed to a consumer demand for low strength beer, which is a wonderful thing as it can only inevitably lead to the availability of tasty bitters and mild in Ireland. Or maybe I'm just getting carried away.