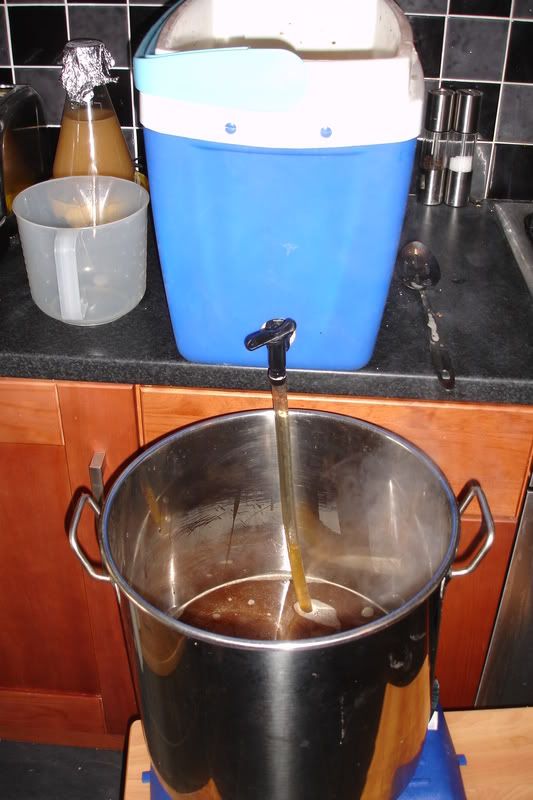 I have been away from these pages for a while but once again with good reason; I finished my brewing exams last Friday and found myself without a minute to do little else except work my day job and wearily trawl through study notes. I could have done the whole thing more intelligently. Last year I opted to cover all the really interesting brewing science aspects which I enjoyed greatly, but for the last six months I have struggled through hundreds of pages of engineering and process technology. Don't get me wrong, this stuff is essential to brewing, particularly at large volumes, but it was very mathematical, covering fluid flow, pressure changes and refrigeration cycles among many other topics. It was all a bit difficult for a lowly biochemist to cope with.
To ease the pain somewhat I dusted off my brewing equipment on Sunday and set about brewing a pale ale. I had in mind a winter type ale gently spiced perhaps but then realised that it was in fact nearly mid December and it would never be ready for Christmas and besides, my recent attempts at any beer had been awful suffering as they did with a flavour I can't account for but suspect stems from oxidation of hot cloudy wort. With this in mind I thought a straight down the line pale ale was in order to see if in fact I could brew beer at all, let alone fancy spiced ones. The recipe looked a little like this:
4.8 kgs Maris Otter
300g Crystal 60L
46g Target 9% AA 60 mins
30g Challenger 7% AA 20 mins, 10 mins
25 g Progress 5 mins, 0 mins.
Mashed at 66 C
Saf 04
OG 1.048
Some of you with a built in bittering units calculator might note that the amount of bittering hops is mental, and you would be correct. I had small amounts of hops lying around the place and just decided to throw them all in to tidy the freezer up. As I said, I am interested to see if I can brew beer at all, let alone a well crafted one, so I went a little slap dash and just used up all my spare hops. It might not be too bad; if that bloody flavour turns up again perhaps the hops will drown it out.