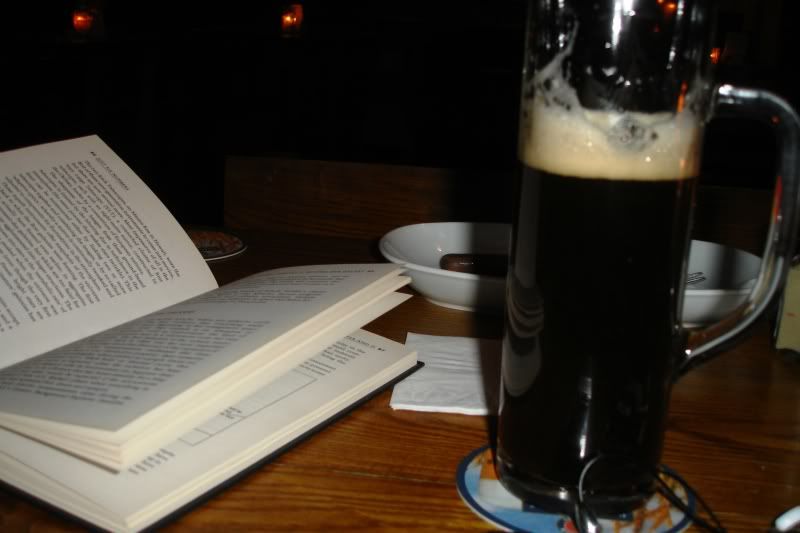 The first of the seasonal beers arrived in Dublin this week. It travelled all the way from Cork city and will likely be the only one on draught this year, which is a pity, but I am optimistic that the future will be brighter for this type of seasonal brewing as the craft industry gathers pace.
Phúca
from the boys of the Franciscan Well Brewery in Cork, who have charmed me with Purgatory Pale ale and
Shandon
Stout in the past, kindly sent a few kegs North to the Bull and Castle so the inhabitants of Ireland's first city might enjoy it too. Phúca (pronounced fooka) is the Irish word for a ghost or spirit, which isn't particularly festive, it seems more suitable for a Hallowe'en beer. Perhaps the brewing schedule didn't go quite to plan in Cork.
It was hard for me to discern the colour of the beer because the entire beer hall appeared to be lit by candle light, but it was reassuringly dark with rich, light tan foam. The most pleasant surprise was the relatively warm serving temperature. I anticipated a thorough chilling but it proved to be just a little too cool than optimum, a testament to the B&C's love of beer and desire to get it to the punter in as good a condition as possible. It smelled suitably festive and well balanced too with the spices mingling amicably with malt. The taste is a similar experience, nothing appears to dominate and the body is nicely full with subtle cinnamon and clove notes. The only draw back is perhaps a lack of warming alcohol which would have set the whole thing off . At 5.2% it is stronger than the average draught beer
available
in Ireland, but a few more percentage points would make it a true winter warmer.