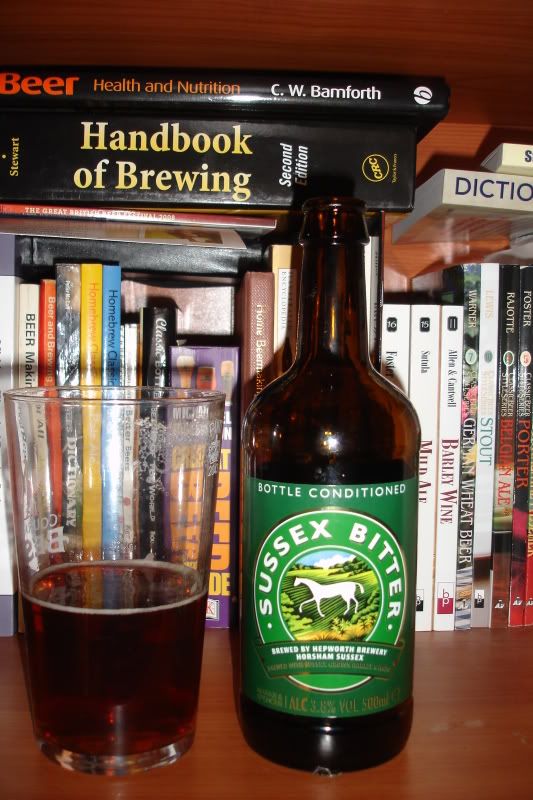 I dined in Monty's again last night. It wasn't planned that way but the evening was all a bit last minute and every restaurant we tried was booked up with irritating Christmas parties. Monty's isn't a second best option mind you, the food and service is excellent, we just hadn't planned on going again so soon. I started the evening in my study with a bottle of
Sussex Bitter
from the Marks and Spencer ale collection my wife bought me. I mentioned previously that my hopes were not high for these beers, based on previous experiences but it gave me great pleasure to be proved wrong about this particular ale. It was just what I was after in the form of a low alcohol hoppy beer with decent bitterness to stimulate my appetite before dinner. The malt aspect was quite striking for a beer of a mere 3.8% and when balanced with the English hop character this made for the perfect pint of session ale.
You might recall my experience of Monty's house beer
Shiva
that I wrote about a few months ago. I wasn't impressed with it at all, but
The Beer Nut
didn't note any major problems during his encounter with it, and I am aware that such problems are quite probably batch related so I opted to try it once again, only to be told by the very friendly waiter that their brewery had shut down. I'll make no further comment.
After dinner drinks were taken in The Porter House, Parliament Street where I had a couple of wonderfully on form pints of TSB. My last pint, albeit in a different branch of the franchise, was freezing cold and disappointing. I was very happy to sink a few pints of the full flavoured, cellar temperature bitter having forgotten just how pleasant an evening on this low alcohol beer can be. Perhaps it was a fresh cask, but rich malt really jumped out of the glass with little of the harshness that can sometimes plague this beer. I've said it before and I'll say it again; we need more full flavoured low alcohol beer in this country, preferably from a cask, but keg would do very nicely indeed.