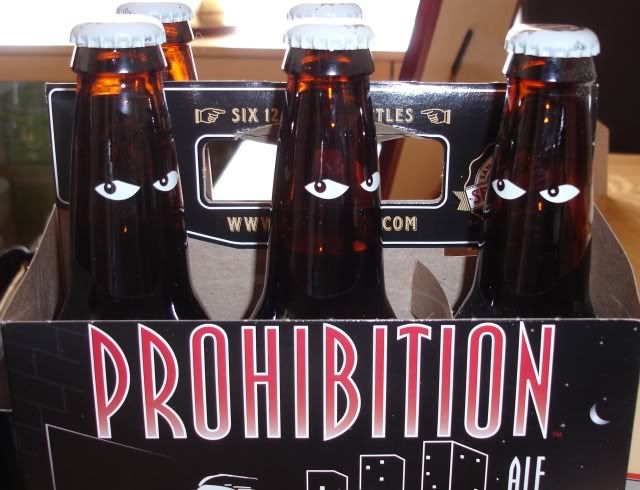 I feel like I have missed out on quite a number of beer events this year, despite attending a record number and having a great time in the process. This is a good reflection on the beer scene in Ireland at the moment where there are in fact too many events to attend throughout the year. The latest event on the beer radar was a tasting of some new American imports which had been show cased
previously
. Sadly this was on the other side of the city and I was too busy too attend. Thankfully this time round things fell into place I was at liberty to attend this event in Lilac Wines off license on my side of the city. The main thrust of this event comes from Jonathan Spielberg (no relation, I'm assured) a New Yorker via California who now lives in Dublin. He and his business partner have taken it upon themselves to import tasty American beer to Ireland independently rather than through the tortuous route that most imported beer arrives in Ireland - mainly through Britain where any number of middle men take their cut with the result that the poor suffering Irish beer lover pays around 3.50 per 360 odd millilitres of beer. By eliminating these meddlers Jonathan's wonderfully tasty beers are available at around 2.70 per bottle. A bargain by Irish standards and long overdue.
The imports presented mainly came from the Speakeasy Brewery, San Francisco and Gordan Biersch Brewing Company, San Jose. I had tried Speakeasy's
Prohibition Ale
a number years ago, but couldn't recall it too well. It proved to be a solid well hopped amber ale which could be easily drank in great volumes except for the 6.1% abv it packs.
Big Daddy
was also on offer, Speakeasy's IPA, a fuller hoppier ale, but mild compared to some of the hop bombs coming from the US. Some on the most interesting beers came from the Weinhenstephaner trained Gordan Biersch. This European experience has clearly influenced the flavour of their beer, most strikingly the wheat beer which actually tastes like a Bavarian weisse - a rare thing in American wheat beer. This was starkly illustr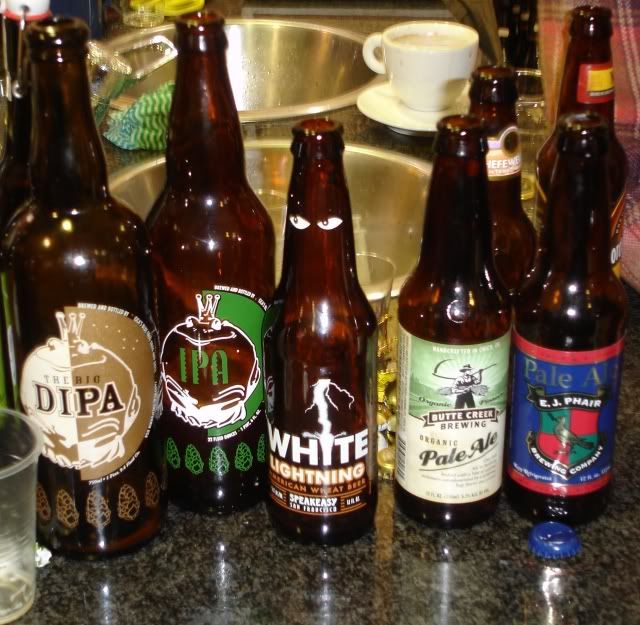 ated by the
White Lightning
wheat beer offered by the Speakeasy brewery, a beer in sharp contrast to the Gordan Biersch, that was just plain unpleasant and made me realise that American wheats can actually get blander than those I have already tried. Biersch's
Blonde Bock
wasn't too much to get excited about, likewise the
Marzen
, but the
Pilsner
surprised me greatly as it did in fact have that chewy malty sensation that the sweeter Czech pilsners carry, with a good measure of bitterness to balance it out.
In an attempt to sound out the market Jonathan had brought along some other American ales that are not yet on the shelves. He was sounding out the wrong market in some respects because the beer geeks who turned up loved the stuff, which may well mean that the average punter will turn up their nose.
Butte Creek's Organic Pale Ale
proved to be the most interesting with an intense hop aspect that was faintly English in an earthy mineral like way. Two very promising beers form the Blue Frog Brewery left us divided on whether their IPA or double IPA (Big DIPA) was the better. The
Big DIPA
boasted 83 bittering units, but the immense body and alcohol swamped this making it far more approachable. This is a common occurrence in these American big beers and it surprises me that American brewers persist with it. The IPA was ascribed 63 bittering units but thanks to the thinner body was an order of magnitude more bitter than the DIPA. Why put all those expensive hops into double IPAs if you just don't get any bang for your buck?