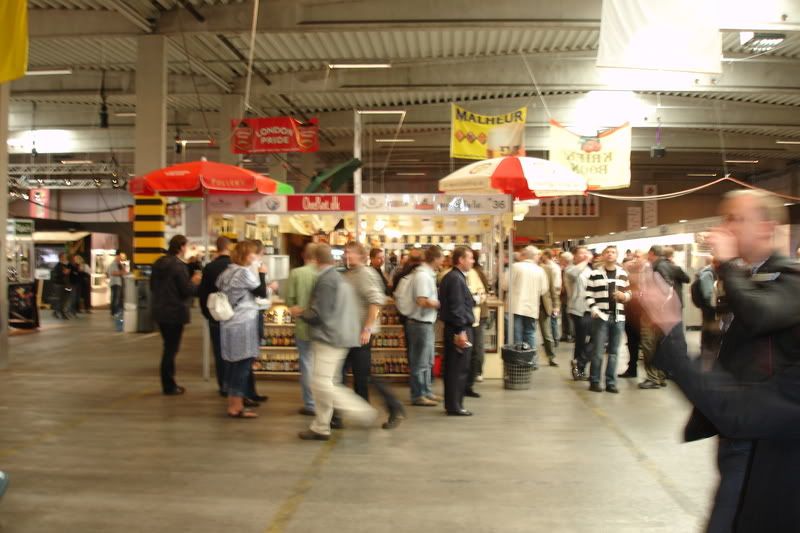 I must confess that my preparation for this event began on the flight over, seated next to
The Beer Nut
while he made his hit list of essential beers. I was quite prepared to follow his lead in this respect and promptly fell into his slip stream when we arrived at the venue. His count sits at 112 for the three days and happily I can say that mine is very similar, but with far fewer notes, well, none to be exact, but the best of them are still fresh in my mind.
This event was superbly run by those involved, and no doubt the more civilised drinking culture that prevails in Denmark negated the need for me to step over vomit at any point during the weekend. The 100ml measures were ample for a great many of the beers on offer which seemed to effortlessly exceed 6 or 7% abv and would have done for the average Irish punter who would have opted for a pint and nothing less. The Danes are doing amazing things with beer and have fully embraced the American brewing culture with an endless supply of imperial stouts and IPAs and I feel somewhat sad that this kind of brewing is not really feasible in Ireland because of excessive excise levies and the attitude of the average Irish drinker and publicans. Beer and breweries of note for me included:
Bryggeriet Djaevlbrg

(The Brewery Devil's Brew) who brewed the wonderful

Schopenhauer's Vilje

, a wonderful example of the better balanced beer on offer with full malt and toffee along with wonderful hops. Their

Nekron

and

Son of Nekron

were a stout and porter that I could drink by the gallon and dearly wish they might turn up in Ireland and give a certain dark beer here a thorough hiding.

Norrebro Bryghus

had on offer a vast selection of beer which is all the more remarkable because according to The Beer Nut this brew pub runs a tiny set up that fits into a corner of their bar. Beers of note here include their

New York Lager

, not because it was an outstanding beer but more to do with the notion that a lager from New York has become a style of beer. What do the people at the BJCP think about that?

Stevns CCC

was an amazing guest beer available at their stall which was supposed to be a kriek of sorts but the cherries weren't too up front. Either way, it was delicious and was the beer I chose to finish up the weekend's events on.

The boys at

Mikeller

were completely unknown to me, but you'd be hard pressed to forget these guys. Apart from their good beer which included a very tart red current lambic and an intense single hopped

Simcoe IPA

that could have done with a little toning down on the hop front, these lads were really enjoying themselves. Various wigs were donned and placards were carried around the festival floor along with a countdown timer for special beers they had on offer. One of these timed release beers was a blueberry lambic that I missed out on which was shame because I looked forward to trying a beer that reminded me of muffins.
Not Danish but Norwegian were the Nogne O boys who sported a minimalist stall, but the same cannot be said for their beer.

Dark Horizon Second Edition

was a remarkable Imperial Stout packing 17.5% and resembling port more than beer. It had a funny way of disappearing up the back of your throat and out your nose which gave it very little length.

Nogne O Porter

was one of the few beers outside of the British Pavilion available on cask and beat all of the British porters available hands down.

Tangerine Dream

was an example of one of the better heavily hopped beer available, and curious to me because it did indeed smell and taste of oranges, but I wondered did the brewers smell the beer afterwards and name it or were they confident of producing such a beer from the outset?
This festival also afforded me the opportunity of trying a great many of the American beers I have heard so much about, the best of which for me was
Gonzo Imperial Porter
from the lunatics at the Flying Dog brewery. I was torn on this beer. I loved all the hops but do they really belong in a dark beer of such richness? Their
Doggie Style
Classic Pale Ale
was as intensely hopped as a great many of the IPAs I had tried and just when you think you are getting to know a brewery they throw
Kerberos
at you which was mellow and easy going. Perhaps they ran out of hops. You can always trust the Americans to give you something to think about.
Yeti
Imperial stout from The Great Divide was another heavily hopped dark beer to challenge the body and mind, but I enjoy such challenges and just wish I could be challenged in this way more often.
There were a great many other beers during my time in Copenhagen and enjoyed pretty much all of them, even the asparagus beer from a brewery I cannot recall the name of. It stank to high heaven of the green shoot but really didn't taste bad at all.
If you love beer you must attend this event. No excuses.